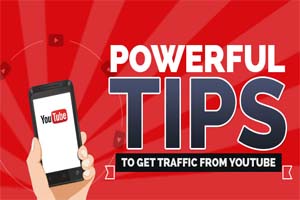 How to get traffic from YouTube Videos
YouTube has a great user base and audience but it has been an uphill task to convert the audience into website traffic. When you have content on twitter or Facebook, your goal will be to have the audience leave to an embedded link to your website or ecommerce shop. This would be hard when your audience is on YouTube since YouTube has related videos, auto-plays and suggested videos which make it tricky for the audience to jump to your site.
In this post, we will discuss Links and CTAs and Content Distribution focusing on how you can drive traffic to your website from YouTube videos.
Links and CTAs
The first thing will be focusing on your call to action. It is a success when someone clicks a link to your website from a video you have published on your YouTube channel. This being so, I would advise you to make your CTA as broad as possible. After you have grown your channel, you can then make the CTAs narrow and targeted.
It's not possible to put links to your YouTube video or the keywords, but it is possible to do it on the description. You can also add links to the annotations in the final section of your video or in the video section where you mention clicking the link. For you to make use of the in-video links, you need to have your account verified. This means that you need to provide proof that you own the website which means you will only add links to sites you own.
Content and Distribution
In this section, allow us to share with you some content ideas you can use when creating your video which will potentially attract new viewers.
One of the ideas can be interviews or discussions at events. When at events, you can engage someone in your industry with a couple of questions or have a discussion with them.
Depending on how your industry is setup, you can have a semi-personal vlog on the channel. You need not be personal but you can be a public face or spokesman for your brand.
Come up with tutorials or demonstrations on how things are done. This kind of content is said to be evergreen on YouTube.
What should you do when it comes to distribution?
Promote your videos on social networks
Your videos should look and sound great
Purchase a professional intro
Create a series or several videos